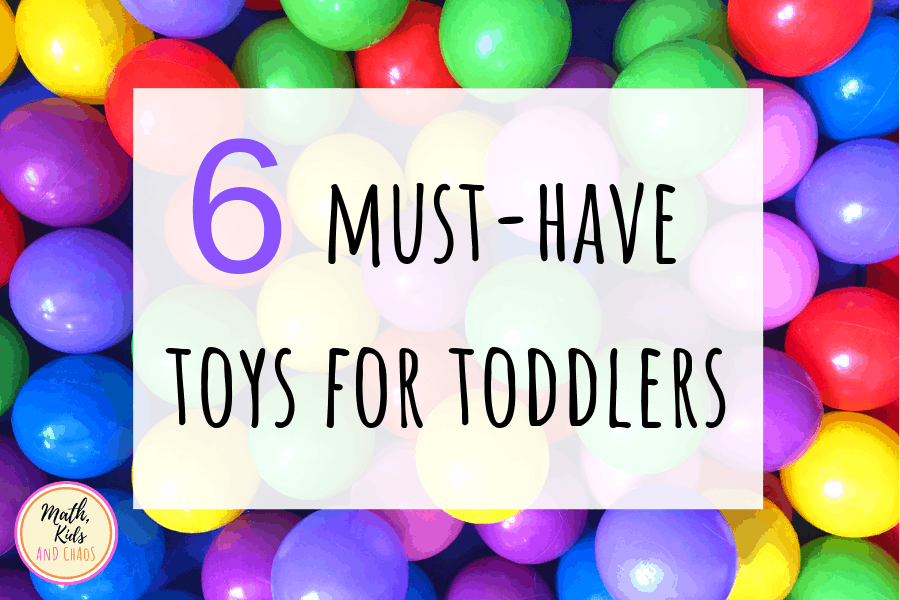 A run down of 6 awesome toys for toddlers that are sure to earn their money
Toys for toddlers.
With so many available these days, it's hard to know which ones are really worth your money.
Which, from the vast array of toys on the store shelves, is going to be the one your young child loves?
Toys can be expensive, and it can be more than a little annoying when you fork out for a toy that you think will be a huge hit, only to find it cast aside for a reliable old favourite.
In this post I give you the lowdown on 6 awesome toys for toddlers that have sure earned their money in our house.
I can assure you that the toys listed here are all ones we own, LOVE and use almost daily.
So if you're shopping for a gift for a toddler, or just want to add a new toy to your home collection and don't know what to choose, check out this list of gems for some inspiration! I hope you find it helpful.
Related: 10 lift the flap books your toddler will love
This page contains affiliate links. If you click through to make a purchase, I earn a small commission, at no cost to you. Please read my disclosure for more information.
Okay, so out of all the toys we have ever bought, this may be my absolute favourite. Yes, like, EVER!
This is a fantastic toy with lots of potential for imaginative play and interacting with others.
This sweet little ice cream cart comes with different ice cream components to create your own play ice cream cones.
It comes with 3 cones, 8 scoops of ice cream (2 vanilla, 2 chocolate, 2 strawberry and 2 mint), 3 different toppings and 6 order cards (from various different animal customers).
It also has a brilliant little 'magic scooper' ice cream scoop that allows you to scoop ice cream onto your cone like a pro. The scoop is pretty clever as it knows what ice cream you are scooping, so for example, when you pick up a scoop of pink ice cream it says "strawberry". Very cool!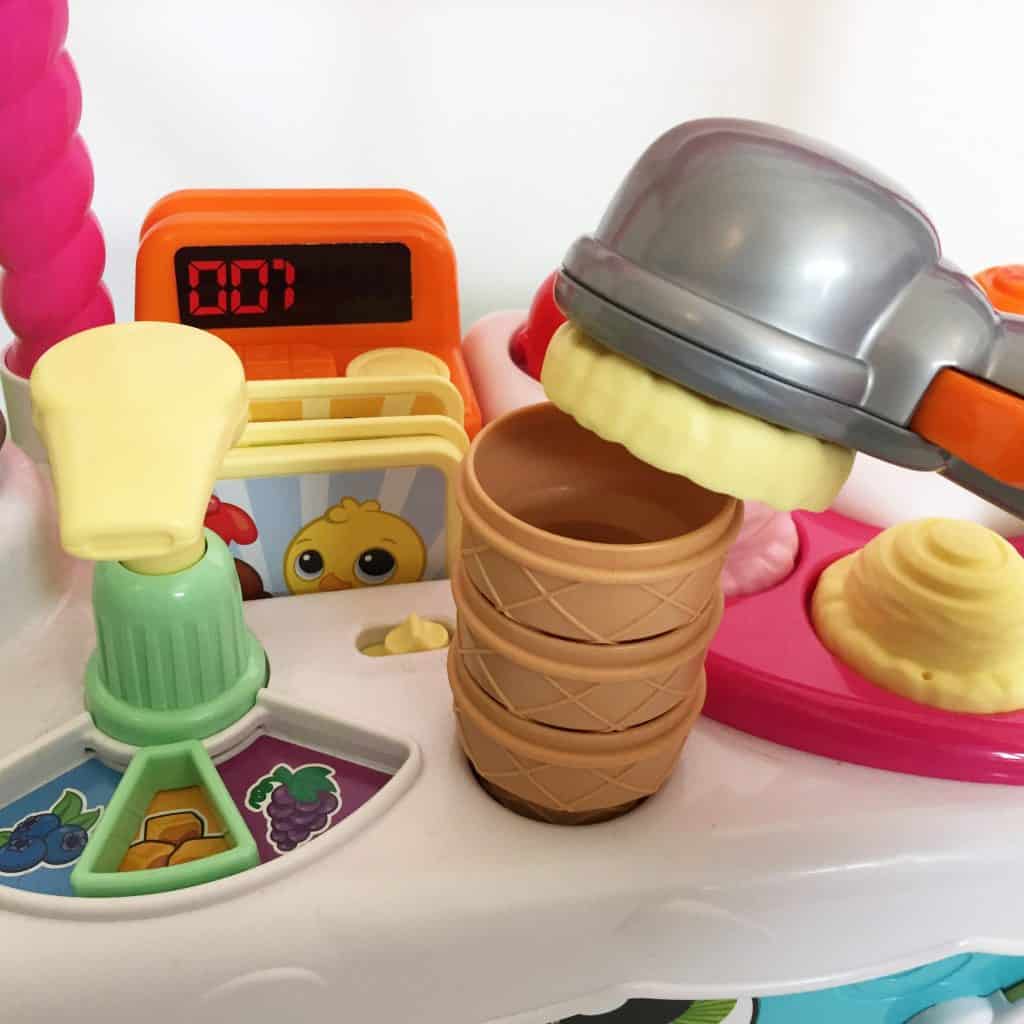 The ice cream cart also has a little bell for when your order is ready and a syrup/sauce dispenser that makes an excellent comedy 'squirty' sound effect.
It comes with 6 little order cards like this:
When you place one of these cards into the slot on the till, it reads aloud an order to memorise and then make, for example "Squirrel would like a cone with one scoop of vanilla icecream".
I must admit that these order cards haven't got much use from our wee ones as of yet. They prefer instead to go freestyle and just concoct their own crazy ice creams. I do however think the cards are a really nice idea and we may perhaps get a bit more use from them further down the road.
The ice cream cart says short phrases and sings little songs (it sings when you pull the ice cream cart along by the handle which is quite sweet). It doesn't however have too many overly long songs to be irritating (not like a dinosaur toy we have that sings songs that last FOREVER. I swear when I lie in bed at night I can still hear the faint sound of that dinosaur harping on about eating healthy foods).
The age guide on the box says 2+, but I have to say that our 1 year old has been in love with this toy for some times and can often be found constructing ice creams to offer around to the family.
All in all, the LeapFrog Scoop & Learn Ice Cream Cart is a great toy for toddlers and gets a big thumbs up from our household.
2. Fisher-Price Little People
It's no secret that I am a fan of all things Fisher Price. We own lots of Fisher Price toys and baby stuff and it always seems to be well designed and durable.
The Fisher Price Little People series of toys is fantastic. For us, these are probably the toys that have seen the most consistent use over the years and they've been popular with young toddlers to preschoolers.
Fisher Price make a variety of different 'Little People' buildings such as houses, farm, an animal rescue centres, a tree house (pictured above) and a zoo.  They also have a series of vehicles such as a bus, train, plane etc. Each building or vehicle has doors to open and buttons to press which play little songs and make sound effects. 
I've found these toys to be really very robust (they routinely get pushed over/pushed off furniture in our house as so many toys do) and they're still in one piece with no real signs of wear and tear.
Each building usually comes with at least a couple of small figures which are a nice safe size for young toddlers. The little characters fit into various spots in the buildings or vehicles. They're a nice size and weight for little hands to hold.
All in all, lots of fun to be had with these.
The walk-a-long puppy by Hape is super sweet and one of my favourite toys for toddlers. It's perfect for little ones who are just learning to walk.
I really like Hape toys as they are made from wood and usually really good quality and this particular one has been a real winner in our house.
This little pooch has a super cheery face and his little tail wags from side to side as he walks. He also makes a nice clattery noise as he walks along too, which only adds to his charm.
Hape also make a very cool pull along crocodile and it looks like there are a few other new pull along toys being released in May 2019 (ladybug, frog, bird..). You can check out Hape's 2019 catalogue on their website here.
When your baby is learning to walk having some sort of pushalong/walker toy is a must.
Over the years we've actually invested in a couple of walkers, but the Hape Wonder Walker has definitely been the best of the bunch.
It's made from wood, nicely designed and decorated in non gender-specific colours. The great thing about this toy is that your toddler can put things (toys, stuffies, siblings..) in the front of the walker to push around.
One big plus for this walking toy is how sturdy it is. We've found it's near impossible to tip this thing over. This is obviously crucial for a toy like this, especially when your child is only just starting to walk.
I would say that due to it being so sturdy and solid, this walker is harder to steer round corners than some of the other lighter (read more flimsy) walkers out there. So if your toddler likes to dash round the house while pushing things, you may want to give them a heads up that they'll have to slow down for the corners with this one!
This walker can be folded down flat for easy storage by undoing some screws with an allen key. Just make sure you don't lose the allen key like I always do. Aarrghhh!
5. Lego Duplo Bricks
As far as I'm concerned, you simply can't go wrong with Lego Duplo bricks.
We were lucky enough to receive a big box of hand-me-down Duplo bricks from some friends some years back. We have played with them endlessly and have gradually added some new sets to our collection.
For me, Duplo is great in that it can be enjoyed by a wide range of ages (hey, as an adult it's also really fun to get stuck in and play with too!!). There also aren't the little tiny pieces to worry about with babies/young toddlers in the same way that there are with the smaller Lego bricks.
Duplo is amazing for letting your imagination run away with you. Given half the chance, we usually end up creating weird and wonderful houses with our Duplo bricks. They often have cool rooftop gardens and sometimes a slide that takes you from the roof down to the front door. If only real houses were so fun…
If you're just getting started with Duplo I'd say it's a good idea to have a decent number of regular bricks in your collection (it's super annoying to run out half way through building a Duplo mega-mansion). It's also worth getting one or two largish base plates so you have something to build your creations on. As we like building houses out of our Duplo bricks, we also invested in lots of extra windows and doors.
We have also had tonnes of fun with the airplane Duplo kit that we got a few years back, complete with little suitcases, airplane, pilot etc. At one stage we built our own passport control building manned by a small Duplo teddy. Unfortunately he wasn't great at his job so we had to let him go.
Quite frankly, Duplo is always a good buy. You know it's going to be played with for a good few years. Every time the kids play with it they make something different so it never gets old.
If you're looking for ideas for what to make with your Duplo bricks, it's worth taking a look at this page of DIY videos over on the official Lego Duplo website. It's full of short videos which show you how to make a whole host of different things out of Duplo.
So, in a nutshell: Dulpo = awesome.
6. Fisher-Price Little People Take Turns Skyway
The Little People Take Turns Skyway by Fisher-Price is a really fun, lively and exciting toy for toddlers. This toy is actually really tall which means your toddler will have to stand and play with it instead of sit (ha! When do toddlers ever sit still?!!!)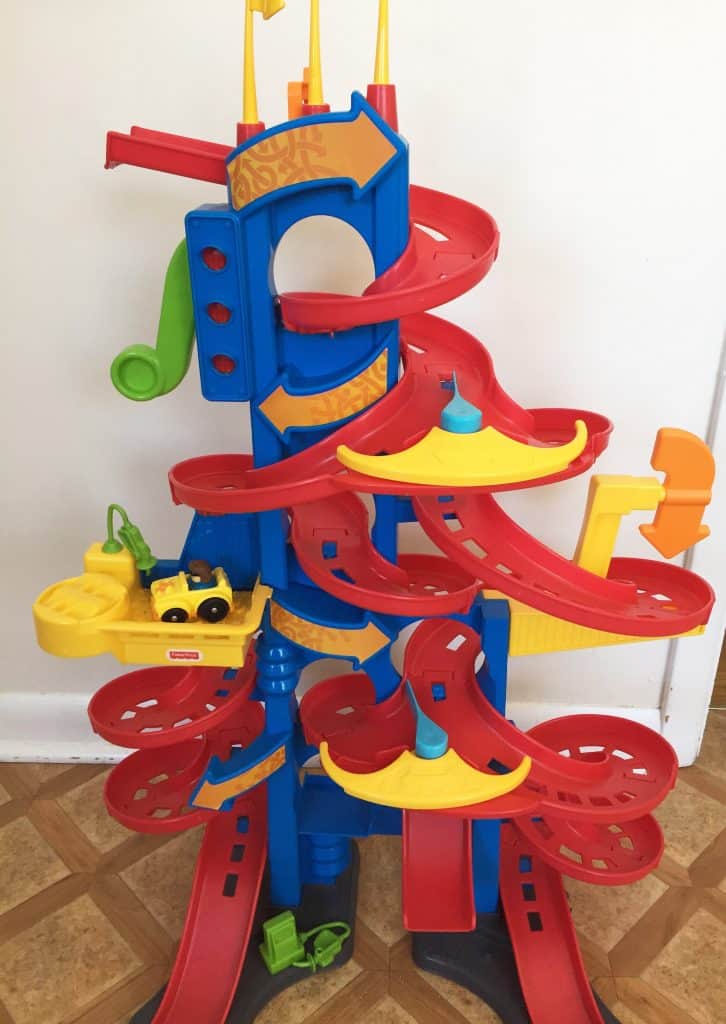 Basically you line up several cars at the start line and then pull down the big green lever to release the first car down track. To let the next car down you must pull the lever again. The lever is big and easy to grab so it's perfect for young toddlers. The cars whiz down the track (to the tune of exciting car racing sound effects), taking one of three different routes to the bottom.
This is a nice take on the usual car racing toy, as the cars go down one at a time (hence the 'take turns' bit of the title!). The fun though is watching to see which route the car is going to take down the track and which of the three exits it will shoot out of. One of the three exits is raised off the floor so the car leaps through the air in dramatic fashion as it finishes the track, which is quite fun.
There are two spots to fill the little cars up with gas before they head out onto the start line. The track comes with two cars but you can also get extra cars separately. We now have a total of 6 cars but can only ever seem to find 3 at any one time, with the others usually under the sofa.
So there we have it! Our 6 favourites. I hope this explanation of 6 great toys for toddlers gave you some ideas for toys or gifts for the toddler (or toddlers) in your life. Happy playing!
More from Math, Kids and Chaos: