Printable Multiplication Tables (1 – 10)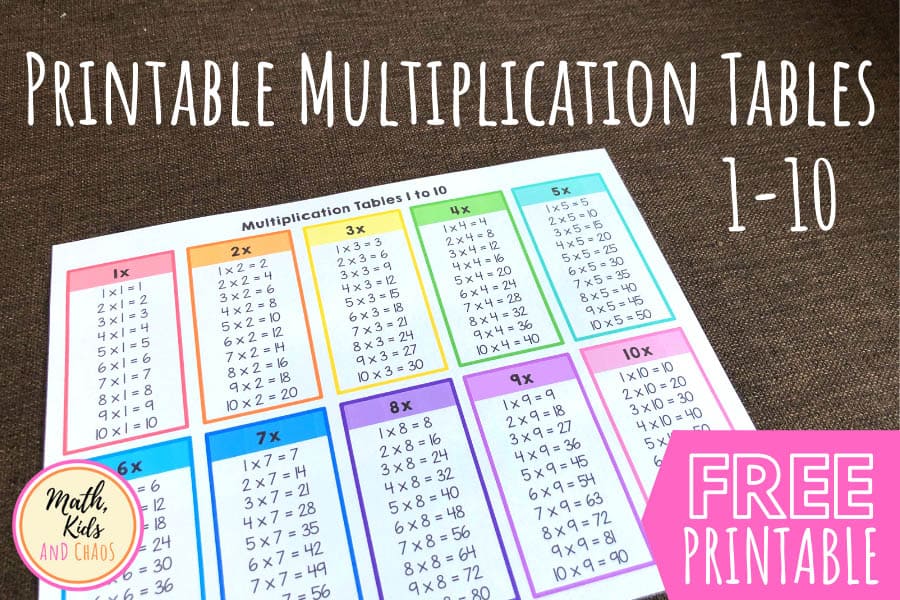 A PDF printable which lists all multiplication tables from 1x to 10x. Bright, colourful and free to download. What's not to love?!
Today's math freebie? Printable multiplication tables!
When your child is learning their multiplication facts, it's really helpful (for both them and you) to have all facts written down in one place to refer to.
It will help your child enormously to be able to see the facts written down when they are working on committing them to memory. Plus, you'll want to have a list of math facts on hand so that you can keep track of which ones they can do and which ones they need help practising.
And that's where today's printable comes in!
The good news? You can download your own copy of this printable at the bottom of this post!
Related post: What is multiplication chart? (plus free charts to download)
What exactly is this printable?
It's a digital PDF download that lists ALL multiplication facts from 1 x 1 through to 10 x 10.
The multiplication facts are divided into individual tables (1s, 2s, 3s, 4s, 5s, 6s, 7s, 8s, 9s and 10s).
This printable has each multiplication table highlighted in a different colour.
This not only looks jolly (rainbow colours make everything look better if you ask me), but it also makes it a bit easier to focus in on one group of facts at a time.
These multiplication tables print out on just one page.
Stick them on the wall or refrigerator door, or just keep them on hand for your child to refer to when they need to.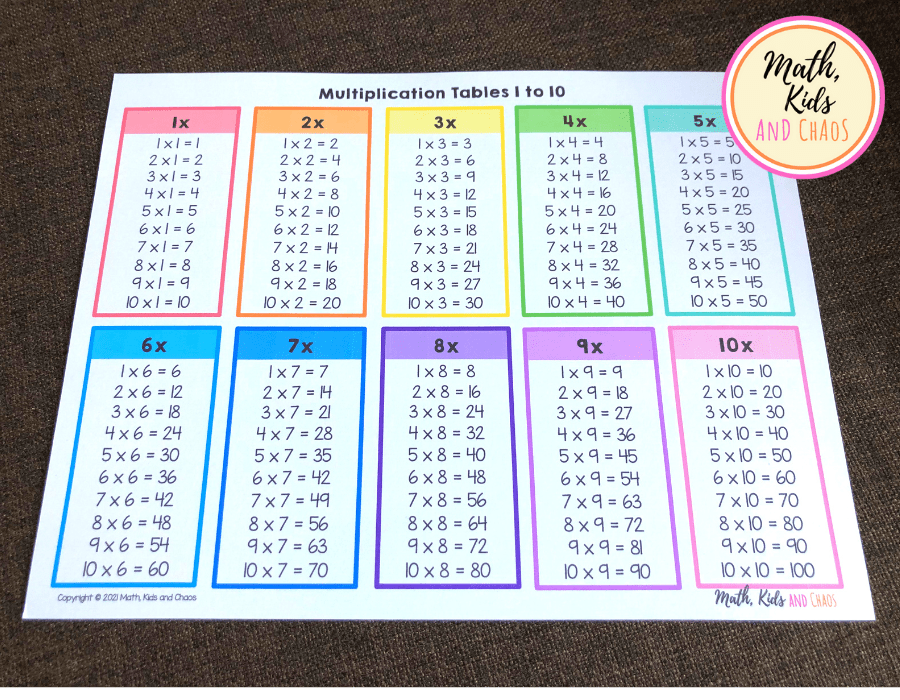 Use these multiplication tables to easily keep track of your child's progress with their multiplication facts
This printable makes for a great way to keep track of which multiplication facts your child is working on and which ones need more practice.
One way to do this is with traffic light colours.
When working on times tables with your child, put a green dot next to any facts that your child is confident with and can recall quickly.
Use an orange dot for those facts that that are coming along but still need some extra practice.
If you want to, you can use a red dot for any super tricky facts that you want to really focus on going forward.
This way, when you're working on times tables with your child, you can see straight away which ones you need to practice.
(I would always suggest starting by revising a few 'green' facts that your child knows well and is confident with before moving on to 'orange' or 'red' facts. This makes for a nice positive start and reminds your child of all the facts they actually already know before tackling some trickier or less memorable ones).
Once your child has mastered an 'orange' or 'red' fact, just mark it with a green dot to show that it no longer requires so much work.
Not sure which order to tackle the times tables in? You can read more about that by reading this post here.
And so, without further ado, you can download your own printable mutlplication tables here!
And there we have it! I hope you find this printable helpful. Have a great day!
If you liked this post, why not pin it? Thanks for your help!
More from Math, Kids and Chaos: