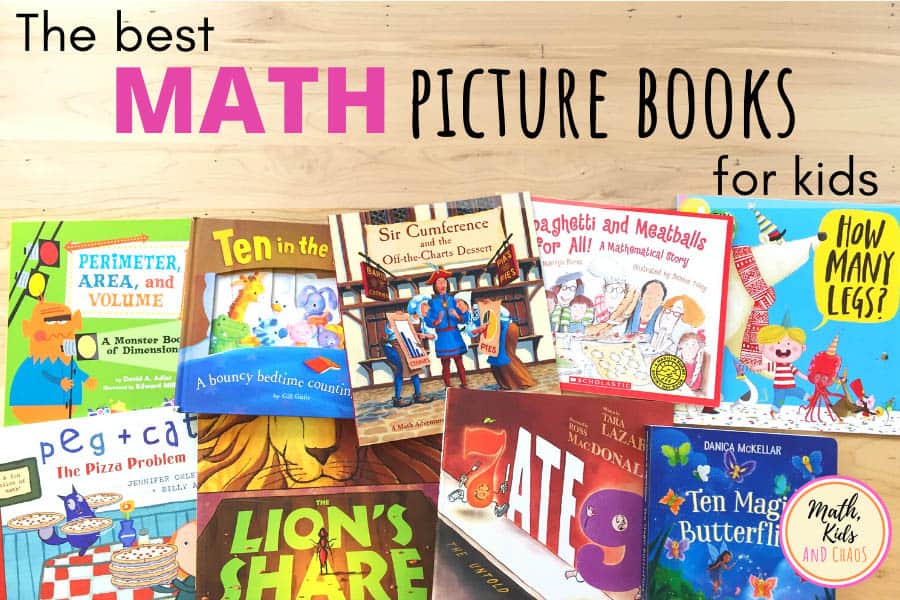 Here is an overview of 9 fantastic math picture books for children. These gems combine a good story with some math too.
One of my favourite things about being a parent is reading to my kids.
Books are magic, and snuggling up with my kiddos to read them stories at the end (or indeed any time) of a busy day is a real joy.
Well, today I have a bold book-related suggestion for you. Here goes…
Have you thought about incorporating some math into your story time routine?
As a math-lover, I take every opportunity to shoe-horn a bit or math into our day here and there, and story time is no exception.
There are some really great math picture books out there for kids of all ages, some of which I'm going to share below.
A math picture book is a great way to incorporate some math into your kid's day in a positive and enjoyable way. For kids that are not keen on math, or even worse, have real anxiety when it comes to math (yes, math anxiety is real – google it!), this is perhaps extra important.
So here is a rundown of some of our favourite math picture books for kids. These great books manage to combine a great read with a bit of math too.
This page contains affiliate links. If you click through to make a purchase, I earn a small commission, at no cost to you. Please read my disclosure for more information.
by Danica McKellar and Jennifer Bricking
Ten Magic Butterflies is a delightful math picture book and one of my preschooler's favourites.
The story is about 10 flowers who, fed up of being flowers and longing to be able to fly, ask a fairy to turn them into butterflies. The math – all about pairs of numbers that together total 10 – is woven effortlessly through the story and the illustrations are magical.
The verse in this book is rhyming which makes it extra fun to read (is it just me or does anyone else do a quick happy-dance when their child chooses a rhyming book at story time?!)
Ten Magic Butterflies is perfect for preschoolers and an absolute must-have for your bookshelf.
by Matthew McElligott
The Lion's Share is one of my favourite math picture books, It's a really engaging story about an ant who is one of a group of animals invited by the lion to be a guest at a special dinner party.
I don't want to give too much of the story away, but let's just say that the ant has much better dinner party manners than the rest of the animal guests.
There is math aplenty in this book, which cleverly deals with halving, doubling and fractions. And there's cake. Lots of cake.
This book would be good for a wide range of ages. My preschooler actually really enjoys this story even though some of the numbers used are a little bit beyond preschool level (for example in the 'doubling' part of the book, the numbers go up to 256!). The illustrations are great and really help clarify the math at each stage of the story.
One last thing I love about this book is that it always starts some good conversations about what does and doesn't constitute good manners when you've been invited to dinner at someone else's house!
Sir Cumference and the Off-the-Charts Dessert
by Cindy Neuschwander and Wayne Geehan
Sir Cumference and the Off-the-Charts Dessert is a story all about charts and graphs from the Sir Cumference series of math story books.
It's time for Sir Cumference and Lady Di (of Ameter!!) to choose the Harvest Sweet to be served at the yearly Harvest Faire.
The trouble is, they can't decide which of the offerings from two local bakers is the best. They decide to let the local townsfolk sample the sweets on offer and decide, but what is the best way to record the results?
This clever story does a great job at introducing the idea of recording and presenting data. It teaches about pie charts and bar charts in a really clear but clever way. The illustrations are excellent and really reinforce the math teaching in the book.
Ten in the bed
by Gill Guile
Ten in a bed is a picture book based on the well known 'Ten in the bed' song. The book starts with ten animals in the bed and then on each page one falls out until there is only one left.
This board book is perfect for very young children. The pages are all a different width, which makes them easy for little ones to grab and turn over themselves as you read.
From a math perspective, I really like this book as it deals with the numbers 1 to 10, but it counts down in reverse, instead of counting up like so many early number books do.
On each page, when one of the creatures falls out of the bed, you can ask your little one how many will be left. A great opportunity for some math and counting practice on each page!
The final page of the book, which shows all the animals snoozing together, always generates an 'aaaaahhhh' from our household.
by Kes Gray and Jim Field
How many legs? is a counting book that's full of fun. A boy is having a party and has invited a whole array of creatures to help him celebrate. Your job is to keep count of the total number of legs at the party.
Now, this counting task may seem straight forward at first, but as more and more guests arrive, totting up the total number of legs gets a bit more tricky. Throw in the fact that many of these creatures have differing numbers of legs (for example an octopus turns up, a centipede etc) and things get really interesting.
This is a really fun book and a great challenge for kids able to do all the addition. For younger children who are not yet able to keep up with the math, it's still a super fun read. With preschoolers, for example, you could have fun counting the legs on an individual creature, or simply enjoy the really funny pictures.
For those readers trying to total up all the legs, you can check your answer at the end of the book.
Great fun.
by Marilyn Burns and Debbie Tilley
Spaghetti and Meatballs for All is a math story book that deals with area and perimeter.
The story is about Mr and Mrs Comfort who are hosting a family reunion for 32 people. Mrs Comfort has done a seating plan so that everyone has somewhere to sit.
However, things go wrong when family members start to arrive and insist on rearranging tables, pushing tables together etc. Will everyone still have a place to sit? I really like this book and think it's a really fun way to get kids thinking about area and perimeter.
At the end of the book there a some pages of useful notes for parents/teachers/other adults, which give you ideas if you want to take the math in this story a bit further. You could even use this story as the basis for a mini math investigation should you wish.
by Jennifer Oxley and Billy Aronson
In this pizza-themed book, our friends Peg + Cat (from the tv show for preschoolers of the same name) are solving problems involving fractions.
Peg and Cat are running their restaurant, Peg's Pizza Place, and a whole range of customers are ordering pizzas for lunch. The problem is, some customers are ordering whole pizzas and some are ordering halves.
As you may have guessed, the fractions problems in this book are to do with halves and wholes. The book does a good job of explaining (and showing with little diagrams) what a half is and also how 2 half pizzas are equal to 1 whole one.
Like the tv show, this book is great for preschoolers, but would also be enjoyed by children in kindergarten and grade 1 too. Peg + Cat: The Pizza Problem is a fun book with a good story, lots of illustrations and plenty of pizza math problems to solve along the way.

by Tara Lazar and Ross MacDonald
7 ate 9 is a really fun, witty picture book about numbers.
The word on the street is that 7 ate 9 and so Private I (yes, the letter I!) is on the case to solve the mystery.
This is a great read (fun for us adults to read too) as it's full of funny math jokes and wordplay.
It has really good, humorous illustrations too (my preschooler loves the fact the numbers all have faces).
by David A. Adler and Edward Miller
Perimeter, Area and Volume is a monster-themed book that's packed with math. It teaches about the three dimensions (length, width and height), perimeter, circumference of a circle, area and volume. That's a lot of math!
All these math concepts are explained in a very clear way and this book is super fun as all the math is explained in the context of a bunch of monsters visiting the movie theatre (and they go to see a 3D movie, of course!). For example, the concept of volume is explained using the example of different sized popcorn boxes being able to hold different amount of popcorn.
Kids will LOVE the monster illustrations, which are both fun and do a great job at reinforcing the math concepts being taught.
So there you go! Our pick of the best math picture books for story time. Who knew math could be so much fun?
More from Math, Kids and Chaos: