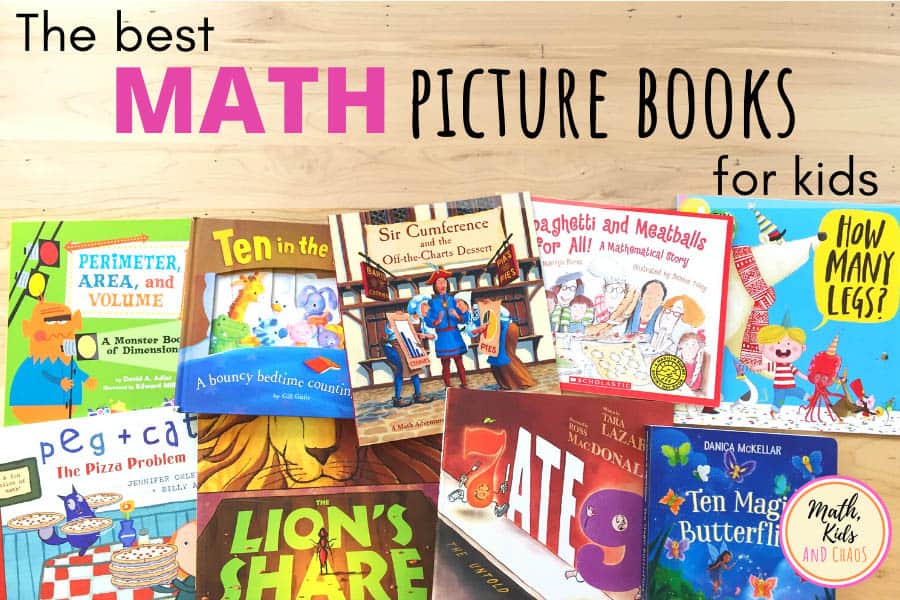 Here is a run-down of 30 amazing math picture books for children. These gems combine a good story with oodles of math too.
This post was originally published in April 2019 and has been updated for 2022 with additional content.
One of my favourite things about being a parent is reading to my kids.
Books are magic, and snuggling up with my kiddos to read them stories, especially at the end of a busy day, is a real joy.
Well, today I have a bold book-related suggestion for you. Here goes…
Have you thought about incorporating some math into your story time routine?
As a math-lover, I take every opportunity to shoe-horn a bit or math into our day here and there, and story time is no exception.
There are some really great math picture books out there for kids of all ages, many of which I'm going to share in this post shortly.
But first, why bother with math picture books?
Why read math picture books with your child?
A math picture book is a great way to incorporate some math into your child's day in a positive and enjoyable way.
Children love being read to, and with a math picture book, they get to not only enjoy the book, but soak up some math too.
A good math picture book can do a really good job explaining new math concepts. It might use a funny story, interesting characters or appealing illustrations to make the math clear, approachable and memorable.
Just as with any good story book, you can read a math picture book more than once (many of our favourites from this list have been read many times!).
Reading a math picture book regularly can really help the math to stick.
For children that don't enjoy math or find it challenging, math picture books are a particularly great tool. After all, they're a great, non-scary way to learn some math.
You can make your way through a book at your child's own pace and stop to talk about the math as you go. If you need to, you can repeat any areas of the book that your child needs to spend more time on.
Math picture books are a win for adults too. Reading one of these picture book with your child is an easy way to help your child with math, and something that you can do regularly that won't feel like a chore.
If you're not confident with math yourself, don't worry because the pressure's not on you! Simply let the book do the heavy lifting for you and learn a bit of math along with your child.
What math topics are covered by the books in this list?
There's a real range of different types of math picture book in this list.
Many of the books are ones that help teach a math concept, such as doubling, halving, number bonds or units of measurement.
Some of these picture books explain math concepts by way of a story, while others are filled with fun facts and real life examples.
Other books in this list tell the stories of real life mathematicians.
There are also some picture books containing puzzles and riddles. After all, math problems don't have to be confined to the classroom.
And finally you'll find some fun books about how math relates to everyday life and, for those in doubt, why it really is a subject worth learning.
Where to find these math picture books
Many of the books are available on Amazon or in your local book store (either in store, or online).
Don't forget also to check to see what's available from your local library. You should be able to plug the names of the books into your library's online catalogue and see if they are available to borrow (if not, there is often a way to request them from another branch).
I would also suggest asking for recommendations for math picture books that would be the right age for your child. You may find some good ones that aren't on this our list.
Let's see the math picture book list!
Okay, so with all that said, here is a rundown of some of our favourite math picture books for kids.
These are all books we either have on our bookshelf at home or have borrowed from the library. They're tried and tested (by my kids as well as me), and only our favourites made the list.
This page contains affiliate links. If you click through to make a purchase, I earn a small commission, at no cost to you. Please read my disclosure for more information.
Books that help to explain math concepts
Topic: Early Number
By Danica McKellar, illustrated by Alicia Padron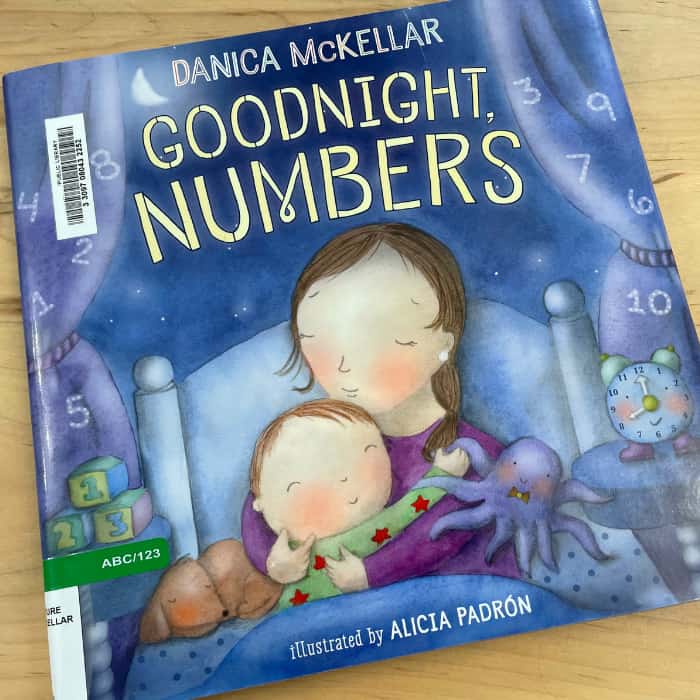 This is a sweet math picture book about numbers and a lovely choice for a pre-bedtime read for little ones. On every page, we help to say goodnight to different objects around the room as part of the bedtime routine.
Each page focuses on a different number from 1 to 10 and there's lots of opportunities to count and see numbers shown in different ways (for example as numerals, in words and as objects in a ten frame).
This book makes for a lovely calming story at the end of the day and is also great for introducing little ones to the idea that math is all around them and part of their everyday life. A great choice for the preschool crowd.
Ten in the bed
by Gill Guile
Ten in a bed is a picture book based on the well known 'Ten in the bed' song. The book starts with ten animals in the bed and then on each page one falls out until there is only one left. This board book is perfect for very young children. The pages are all a different width, which makes them easy for little ones to grab and turn over themselves as you read.
From a math perspective, I really like this book as it deals with the numbers 1 to 10, but it counts down in reverse, instead of counting up like so many early number books do. On each page, when one of the creatures falls out of the bed, you can ask your little one how many will be left.
A great opportunity for some math and counting practice on each page! The final page of the book, which shows all the animals snoozing together, always generates an 'aaaaahhhh' from our household.
by Danica McKellar and Jennifer Bricking
Ten Magic Butterflies is a delightful math picture book and one of my preschooler's favourites.
The story is about 10 flowers who, fed up of being flowers and longing to be able to fly, ask a fairy to turn them into butterflies. The math – all about pairs of numbers that together total 10 – is woven effortlessly through the story and the illustrations are magical.
The verse in this book is rhyming which makes it extra fun to read (is it just me or does anyone else do a quick happy-dance when their child chooses a rhyming book at story time?!)
Ten Magic Butterflies is perfect for preschoolers and an absolute must-have for your bookshelf.
1 to 20, Animals Aplenty
By Kate Viggers
This is a fabulous book for recapping numbers to 20, with gorgeous illustrations and lots of humour. Each page focuses on a different number (from 1 to 20) and shows a group of creatures doing something comical, for example '18 badgers wearing badges' or '11 dogs with their pet frogs'.
There's lots of detail in the artwork on each page and my kids laughed at the funny ideas throughout (particularly the 17 ants in their underpants).
On finishing the book, my youngest instantly requested to read it again. I think that pretty much says it all.
By Mark Lee, illustrated by Kurt Cyrus
For children that love different types of vehicles, this is a great number book for reviewing numbers up to 20.
An ice cream truck breaks down in the street and gradually other vehicles come to a halt behind it creating one giant traffic jam. You count each vehicle as you go until you reach 20 vehicles all stuck in the road.
There's lots of different types of vehicle to spot throughout, and lots to look at and enjoy in the artwork throughout the story. Highly recommended.
Topic: Numbers, Counting and Arithmetic
By Masayuki Sebe
I first came across this book many years ago, and so was delighted to find it again recently in the library. On each double page there are one hundred things to count, for example cats, fish, elephants and even children.
The artwork is adorable and there is so much to see on every page. For each group of 100, you'll find little suggestions for things to search for amongst the pictures, for example we had to count how many elephants were sleeping, and, on page 6, locate the farting mole (makes my kids hoot with laughter every time).
Let's Count to 100 is great book for giving children a sense of what 100 really looks like, as well as just being really really fun.
By Grace Maccarone, illustrated by Pistacchio
This is a fun re-telling of the story of the three little pigs, featuring numbers to 100. As you read the book, you'll spot numbers in counting order woven into the story.
And when the third little pig sets about building his house, he uses (you guessed it!) 100 bricks. The big bold pictures are colourful and will appeal to young children.
All in all, a fun way to weave some math into this classic story.
by Kes Gray and Jim Field
How many legs? is a counting book that's full of fun. A boy is having a party and has invited a whole array of creatures to help him celebrate. Your job is to keep count of the total number of legs at the party.
Now, this counting task may seem straight forward at first, but as more and more guests arrive, totting up the total number of legs gets a bit more tricky. Throw in the fact that many of these creatures have differing numbers of legs (for example an octopus turns up, a centipede etc) and things get really interesting.
This is a really fun book and a great challenge for kids able to do all the addition. For younger children who are not yet able to keep up with the math, it's still a super fun read. With preschoolers, for example, you could have fun counting the legs on an individual creature, or simply enjoy the really funny pictures.
For those readers trying to total up all the legs, you can check your answer at the end of the book. Great fun.
By Matthew McElliot
Bean Thirteen has fast become another of our favourite math story books. Written and illustrated by Matthew McElliot (author of the Lion's Share, see below), Bean Thirteen tells the story of two bugs, Ralph and Flora. Instead of picking 12 beans to share for dinner as intended, Ralph picks an extra bean to make a total of 13. Trouble ensues as they find 13 to be a tricky number to share equally amongst themselves and their friends.
A fun tale, fabulous illustrations, and a great way to introduce the idea of division as equal groups as well as the concept of prime numbers.
By Joan Holub and Tom Lichtenheld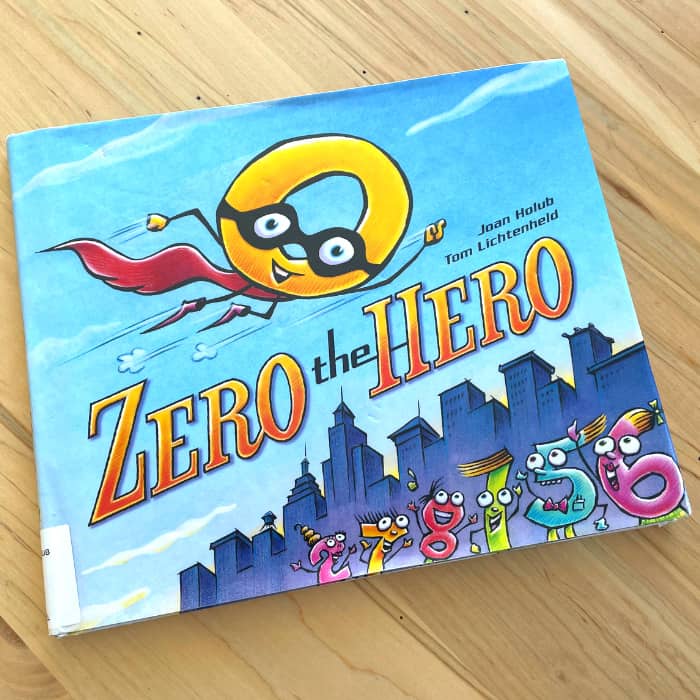 This is such a great book. It's full of math, but the math is presented in such fun and clever way that children won't realise how much is in there.
It's the story of Zero (yes, as in the number '0'), who increasingly feels unloved and excluded by his number peers. After all, when Zero is added to another number nothing happens, and when he is multiplied by another number, that number disappears completely. Frankly, it's no wonder the other numbers are wary of him. It's a happy ending, however, when Zero saves the other numbers from a bunch of Roman numerals and is then quite rightly hailed 'Zero the Hero'.
In terms of math, this one talks about zero in relation to the four basic operations, so would be best suited to grade 1 and up.
By Brian P Cleary, illustrated by Brian Gamble
This fun book in Brian P. Cleary's 'Math is CATegorical' range of books, is a rhyming book all about subtraction. With funny illustrations and rhyming text, it gives a great explanation of subtraction with lots of entertaining examples.
This is a great book choice for children starting out with the idea of subtraction and those working on subtraction within 15.
By Brian P Cleary, illustrated by Brian Gable
The cats are back, and this time they're explaining all you need to know about addition.
As with all the Math is CATegorical books, The Mission of Addition written in witty rhyming verse and is full of entertaining examples to do with the math topic being taught.
This books does a great job at introducing the concept of addition, as well as a range of math vocabulary around adding numbers too.
By David A Adler, illustrated by Edward Miller
If you have a child who always wants to challenge you with really impossible questions about huge numbers (I have!), this book is for you. It's a great introduction to what a million looks like, as well as one billion and even one trillion.
This books is full of really great examples to show how big these numbers are, for example there's a page which discusses how many pizzas you could buy if you had one million dollars to spend.
It's a really fun, fact-filled math book, made all the more enjoyable by Edward Miller's fantastic illustrations.
Topic: Place Value
By Cindy Neuschwander, illustrated by Wayne Geehan
Another book from the Sir Cumference range of math stories, this one is all about place value.
Sir Cumference and Lady Di are organising a celebration for the King's birthday. With huge numbers of people arriving to join the celebration, they struggle to come up with a good way of counting all the guests that are arriving. Until, that is, they start to organise them in rows of ten, as well as groups of one hundred and of one thousand.
This story makes for a fun introduction to place value and the illustrations are great for reinforcing the concepts and the showing the different place value groupings.
Topic: Measurement and Data
In a Minute: Take the 60-second Challenge
By Clare Lowther, illustrated by Ashlea O'Neill
This isn't so much a story book, but rather a 'doing' book full of challenges to help children get a feel for how long one minute is.
Each page tells you an interesting fact (for example "a seahorse can flap its fin 2100 times in a minute"), before then challenging you to see how many times in one minute you do a similar action (in this case, how many times you can flap your arms).
Units of time can sometimes be tricky for younger children to comprehend, so having lots of examples to think about and real-time challenges to work through is really beneficial.
By Brian P. Cleary, illustrated by Brian Gable
This is another book from the Math is CATegorical series, this time all about units of measurement for measuring weight. It's informative and fun to read, made all the more jolly thanks to Brian Gable's brilliant cat illustrations.
What I particularly love about this book, is that they author gives lots of real life examples of objects that would weigh each different unit of measurement. For example we're told that a slice of bread would weigh about 1 ounce and 16 slices would weigh about 1 pound.
Also worth noting is that as well as ounces, pounds and tons, this book also introduces metric units (grams, kilograms etc).
by Marilyn Burns and Debbie Tilley
Spaghetti and Meatballs for All is a math story book that deals with area and perimeter.
The story is about Mr and Mrs Comfort who are hosting a family reunion for 32 people. Mrs Comfort has done a seating plan so that everyone has somewhere to sit. However, things go wrong when family members start to arrive and insist on rearranging tables, pushing tables together etc. Will everyone still have a place to sit? I really like this book and think it's a really fun way to get kids thinking about area and perimeter.
At the end of the book there a some pages of useful notes for parents/teachers/other adults, which give you ideas if you want to take the math in this story a bit further. You could even use this story as the basis for a mini math investigation should you wish.
by David A. Adler and Edward Miller
Perimeter, Area and Volume is a monster-themed book that's packed with math. It teaches about the three dimensions (length, width and height), perimeter, circumference of a circle, area and volume. That's a lot of math!
All these math concepts are explained in a very clear way and this book is super fun as all the math is explained in the context of a bunch of monsters visiting the movie theatre (and they go to see a 3D movie, of course!). For example, the concept of volume is explained using the example of different sized popcorn boxes being able to hold different amount of popcorn.
Kids will love the monster illustrations, which are both fun and do a great job at reinforcing the math concepts being taught.
by Cindy Neuschwander and Wayne Geehan
Sir Cumference and the Off-the-Charts Dessert is a story all about charts and graphs from the Sir Cumference series of math story books.
It's time for Sir Cumference and Lady Di (of Ameter!!) to choose the Harvest Sweet to be served at the yearly Harvest Faire.
The trouble is, they can't decide which of the offerings from two local bakers is the best. They decide to let the local townsfolk sample the sweets on offer and decide, but what is the best way to record the results?
This clever story does a great job at introducing the idea of recording and presenting data. It teaches about pie charts and bar charts in a really clear but clever way. The illustrations are excellent and really reinforce the math teaching in the book.
Topic: Fractions
by Matthew McElligott
The Lion's Share is one of my favourite math picture books.
It's a really engaging story about an ant who is one of a group of animals invited by the lion to be a guest at a special dinner party. I don't want to give too much of the story away, but let's just say that the ant has much better dinner party manners than the rest of the animal guests.
There is math aplenty in this book, which cleverly deals with halving, doubling and fractions. And there's cake. Lots of cake. This book would be good for a wide range of ages. My preschooler actually really enjoys this story even though some of the numbers used are a little bit beyond preschool level (for example in the 'doubling' part of the book, the numbers go up to 256!).
The illustrations are great and really help clarify the math at each stage of the story. One last thing I love about this book is that it always starts some good conversations about what does and doesn't constitute good manners when you've been invited to dinner at someone else's house!
by Jennifer Oxley and Billy Aronson
In this pizza-themed book, our friends Peg + Cat (from the tv show for preschoolers of the same name) are solving problems involving fractions.
Peg and Cat are running their restaurant, Peg's Pizza Place, and a whole range of customers are ordering pizzas for lunch. The problem is, some customers are ordering whole pizzas and some are ordering halves.
As you may have guessed, the fractions problems in this book are to do with halves and wholes. The book does a good job of explaining (and showing with little diagrams) what a half is and also how 2 half pizzas are equal to 1 whole one.
Like the tv show, this book is great for preschoolers, but would also be enjoyed by children in kindergarten and grade 1 too. Peg + Cat: The Pizza Problem is a fun book with a good story, lots of illustrations and plenty of pizza math problems to solve along the way.

Funny math picture books and books about math in everyday life
By Bethany Barton
This a really fun book, and particularly great for those children who have a hard time with math or just don't see the point of learning it.
The book begins with the narrator of the book claiming that math 'is not very loveable', at which point a super cheery space alien comes down to quash all the narrator's negative claims about math, and point out all the ways that math is useful, relevant to everyday life, and just plain awesome.
The illustrations and bright and colourful, and it's fun to read thanks to large bold text, speech bubbles and lots of humour throughout. My kids loved this book. A great read for math sceptics and math lovers alike.
by Tara Lazar and Ross MacDonald
7 ate 9 is a really fun, witty picture book about numbers.
The word on the street is that 7 ate 9 and so Private I (yes, the letter I!) is on the case to solve the mystery.
This is a great read (fun for us adults to read too) as it's full of funny math jokes and wordplay.
It has really good, humorous illustrations too (my preschooler loves the fact the numbers all have faces).
By Jon Scieszka and Lane Smith
This is such a funny book. It's a story of a girl who wakes up one Tuesday morning to find herself under a math curse. Everything she does, be it trying to catch the bus or share out cupcakes amongst her classmates, becomes a math problem that needs solving.
Throughout her day she covers endless math topics from numbers and fractions to measurement and money. The question is: will she ever escape the math curse?
So much math, great pictures and lots of laughs. We loved it.
Bears Make the Best Math Buddies
By Carmen Oliver, illustrated by Jean Claude
When it's time to pair up for math at school, Adelaide finds she doesn't have a partner.  The solution? She goes about finding her own math buddy, who just happens to be a bear. Adelaide recounts to her teacher all the ways that Bear helps her with math, and enlightens us as to why bears really do make the best math partners.
Throughout the story there are lots of lovely examples of math being all around us, for example we see Adelaide and bear count stars on their camping trip, spot different shapes in the clouds, and share out their collection of tasty berries.
All in all, a lovely book with a sweet math-positive message.
Math picture books with puzzles and problems to solve
By Valorie Fisher
This book is full of fun and imaginative word problems, perfect for younger children who are working on counting, adding, subtracting and problem solving skills.
Each word problem is accompanied by a beautiful full-page illustration to help them visualise and solve the problem. The themes are really fun (balloons, beets, Daphne the dragon) and there are even extra problems at the back of the book relating to each page should you want to add more math next time round.
A great book for young mathematicians (I would suggest ages 6 to 9), who love a math problem.
By Greg Tang, illustrated by Harry Briggs
This is such a fun puzzle book for children age 7 to 10.
Each double page spread contains a different math riddle, made up of 6 or 8 lines of rhyming verse, plus a corresponding illustration. There are lots of different fun themes, from red hot chilli peppers to ladybugs at a spring dance, and the artwork is bright, bold and colourful.
As for the math, well there are things to count, there's addition, subtraction, multiplication, not to mention a lot of problem solving. I particularly love the way that, within each riddle, you're given a little tip for how to go about solving the problem. So clever.
If there are any teachers reading, Math Appeal would be a great option for any grade 2 or 3 classroom bookshelf.
Math picture books about mathematicians
Julia Finley Mosca, illustrated by Daniel Rieley
This is a fascinating and inspiring children's book about American engineer Raye Montague.
It tells the remarkable story of Raye Montague's life and achievements in the field of mathematics and engineering and how she became the first person in the world to design a ship by computer. It's also a remarkable story of perseverance, determination and dignity in light of the barriers and prejudice she faced due to her race and gender.
The story is written in rhyming prose and the pictures are great for helping bring this story to life. At the end of the book there is an interview with the late Raye Montague, as well as a fact sheet, photographs, and a timeline of important events in her life.
By Deborah Heiligman, pictures by LeUyen Pham
The Boy who Loved Math is a lovely, child-friendly account of the life story of Hungarian mathematician, Paul Erdos.
With brilliant illustrations, it follows the mathematician's story from a little boy through to his death in the 1990s. Despite never having heard of him before, my kids really enjoyed this book. They loved hearing details of Erdos's eccentric personality and how he travelled and collaborated with other mathematicians across the world.
They were also fascinated by the fact that, despite being an incredible mathematician, he struggled so much with basic everyday activities such as going to school or doing his laundry.
A really enjoyable account of a very interesting mathematician.
So there you go! Our pick of the best math picture books for story time. Who knew math could be so much fun?
Want to save this list of books for later? Why not pin it?
More from Math, Kids and Chaos: