10 lift the flap books your toddler will love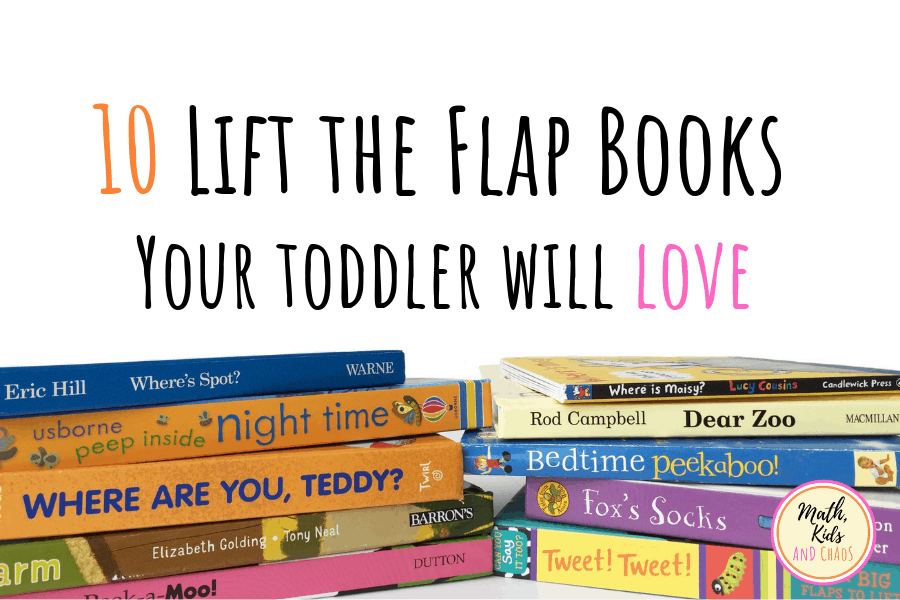 A round up of ten of the best lift the flap books for babies and toddlers.
Do you have a baby or toddler who only wants to read lift the flap books come storytime? If so then I hear you!
In our house, lift the flap books reign supreme.
My youngest really enjoys books, but only on the understanding that they have flaps to lift. If they don't, they are usually given a hard stare and a swift exit.
As a result we have read and purchased a lot of lift the flap books of late. Here is a rundown of our 10 favourites.
Rest assured these are all recommendations of books we own and love, as you can probably tell by the distinctly well-loved condition of some of those included.
This page contains affiliate links. If you click through to make a purchase, I earn a small commission, at no cost to you. Please read my disclosure for more information.
By Stephanie Babin and Daniel Roode
Where are you, Teddy? is a simple but very sweet lift the flap book for babies and toddlers. On each page of this book, Teddy is hiding somewhere different and you have to lift the flap to find him. All of Teddy's hiding places are ones that little tots will relate to (behind the blocks, in the toybox etc) and the illustrations are big, bright and colourful. The final page of this book is particularly sweet: the flap reveals Teddy next to a mirror which shows the reader's reflection. Where's Teddy? He's right here with you. Aaaahhhh.
By Alice Shertle, illustrated by Jill McElmurry
This is a lovely lift-the-flap book from the series of stories about the little blue truck (if you haven't read the original book, Little Blue Truck, then do go search it out – it's fantastic).
In this charming spring-themed story, the little blue truck is tootling along on a drive with the green toad.  Along the way (and under the flaps), they meet various animal friends on their travels.  The illustrations are beautiful and there is lots of look out for in the detail on every page. 
In terms of the 'lift the flap' element of the book, we really liked the way the flaps were different sizes and in different locations on every page.  The flaps are also large enough to not be too delicate (and easily pulled off), which is always good with toddlers.  All in all, highly recommended.
By Julia Donaldson and Axel Scheffler
Fox's Socks is a lovely lift the flap book from the 'Tales from Acorn Wood' series. It was created by Julia Donaldson and Axel Scheffler, the same talented people behind The Grufallo and Room on the Broom. This book tells the tale of a fox who is searching around his house (with the help of a very sweet mouse friend) to find his socks. As you lift the flaps on each page, you find various other items of clothing around Fox's house, before finally finding the missing socks (Phew! Nobody wants cold feet!)
The flaps in this book are smaller and more fiddly than some others listed here and so would be suited to toddler age and up rather than younger babies (the back of the book advises not for babies under 10 months). All in all, this is a charming book with beautiful illustrations. If you enjoy this one, there are also another 3 lift the flap books in the same series: Postman Bear, Hide-and-Seek Pig and Rabbit's Nap.
By Eric Hill
Quite frankly, I could never forgive myself if I didn't include Where's Spot? in the list. It's a classic that I (and probably many other people my age) remember fondly from my youth. In a nutshell, it's dinner time and Spot the dog is hiding somewhere. You're needed to help Spot's mum, Sally, find him by looking under the flap on each page. Along the way, you'll come across a fun menagerie of animals in some surprising hiding places (we always particularly enjoy the hippo in the grand piano). And rest assured that this story ends happily with Spot enthusiastically tucking into his grub.
Bedtime Peekaboo
By DK
Bedtime Peekaboo is both a lift the flap and touch-and-feel book for babies, all about the bedtime routine. On each page, hiding under the flap, is a stuffed animal who reminds you to do a different part of the 'getting ready for bed' routine, e.g choose a bedtime story, find your favourite toy etc.
I like this book for lots of reasons. Firstly it wins my prize for the most durable lift the flap book, as each page has not so much a flap, as an extra page that folds out to the side. This type of flap is very robust and not easy for a baby to rip off in a fit of enthusiasm (as does occasionally happen when reading lift the flap books).
Another reason that I like this book is that each page contains photographs instead of illustrations. This includes a photo of a real-life baby on each double page. My kids, when small, always responded very enthusiastically to the baby pictures in the book – it's as if there was a new baby friend to say hello to on every page. There are a number of other really good lift the flap books in this series, including Playtime Peekaboo and Bathtime Peekaboo.
Peek-a-Moo!
By Marie Torres Cimarusti and Stephanie Petersen
Having stumbled across this book at the library several years ago, I quickly vowed to get my own copy of Peek-a-Moo! I knew it was a book we would want to read over and over again. Each page shows a different animal who is playing peekaboo by hiding their face with their feet/hooves/wings etc. By pulling down the flap, you can see the animals face and read what noise it makes (for example, 'Peek-a-squeak' says the mouse).
With its big, bright illustrations, this book is perfect for babies and toddlers. It has really big flaps which are easy for little hands to get hold of. It's also the perfect book with which your little ones can practice their repertoire of animal noises.
By Elizabeth Golding and Tony Neal
This lift-the-flap book has been read and enjoyed many times in our house. So many, in fact, that our copy is well worn (read completely destroyed) and we need to buy a new one. Seek & Peek Farm is a farm-themed lift the flap book which has a beautiful pop-up scene on the final page. It is also a counting book for the numbers 1 to 4 (Math! Yay!). On each page you have to find a specific number of animals under the flaps (for example the first page wants you find 1 dog, the second page 2 cows etc). The illustrations are really jolly and there are lots of flaps per page to keep little hands occupied. There is also Seek & Peek Jungle, which is the same format but all about colours instead of numbers (and is also lovely).
Related post: The best math picture books for kids
By Anna Milbourne and Simona Dimitri
This series of 'Peep Inside' lift the flap books from Usborne is fantastic and we own quite a few from the collection. Our favourite is probably this one, Peep Inside Night Time. It is all about the people and animals who might be up and about during the night. It shows, for example, bakers working hard preparing bread before the bakery opens, people traveling on a sleeper train, and owls and foxes looking for food at night.
These books are more wordy that some others in this list and are packed with interesting facts. In my experience, these books are most appreciated by kids 3 and up. Other equally lovely books in this series include Peep Inside the Garden, Peep Inside Space and Peep Inside the Zoo. Well worth a read!
By Rod Campbell
Dear Zoo is a really fun lift the flap book which features a different zoo animal under each flap. The premise is that you have written to the zoo requesting a pet. The zoo sends you a succession of vastly inappropriate animals so you have to keep sending them back. Finally they send you the perfect pet (I won't spoil the surprise and tell you which animal it is) so you decide to keep it. This is a great book that babies and toddlers will enjoy reading over and over.
Where is Maisy?
By Lucy Cousins
Maisy Mouse, created by Lucy Cousins, is a popular character in our house and she features in quite a few books on our bookshelf. Where is Maisy? is a lift the flap Maisy book for babies 6 months and up. In this one, Maisy is hiding and (you guessed it!) you have to find her. With lovely bright pictures and a different friend of Maisy behind each flap, it's perfect for tiny tots who are just starting to interact with books.
By Sebastian Braun
I really like 'Tweet! Tweet!' from the 'Can you say it too?' series of lift the flap books as it is all about birds. This makes a nice change to all the farm and zoo animals that seem to have a monopoly in the lift the flap book market. Each page has a large, sturdy flap to lift which reveals a different kind of bird (sparrow, dove, woodpecker, crow and peacock) and the sound each one makes. The illustrations in this book are beautiful (the first page with the light pink blossom is gorgeous and reminds me of home) and it's fun for little ones to practise copying the sound each bird makes.
So there we have it! 10 awesome lift the flap books that the toddler in your life is sure to love. Until next time, happy reading!
More from Math, Kids and Chaos: